On the website, readers will find a list of centenary events, photo galleries, videos and a curated collection of stories and memorabilia.
In building the website, inspiration was drawn from our valued Old Boy community – the custodians of the history of the School – as well as the expertise of our Heritage Centre to create a place to celebrate Knox and its people.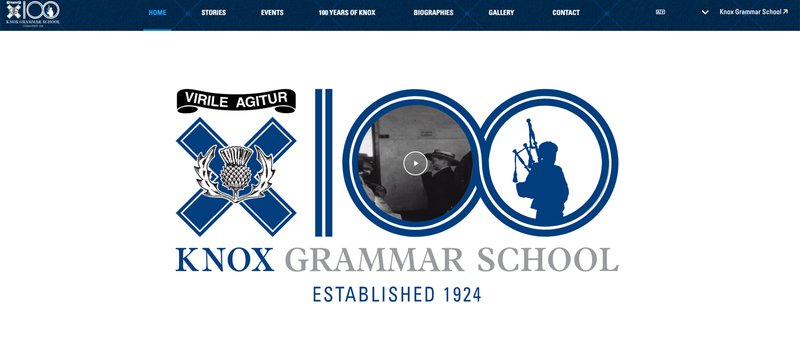 "While Knox is a truly innovative school, our traditions and past are an essential part of who we are. Our traditions keep memories alive and pass on the School's heritage through generations," says Headmaster, Mr Scott James.
"By honouring the traditions of the School, each Knox boy shares in and celebrates his School's history and future."
Our acknowledgement of Knox's centenary began in 2018 with a series of projects. Our boys have watched as our School transformed with the awe-inspiring murals of Hugues Sineux, displays in the Boarding Centre and Aquatic Centre. Our Year 8 boys and our Art department have worked on designs for the new stained-glass windows for the William McIlrath War Memorial Chapel, and our Prep boys have helped to create a picture book. From the subtle, such as the Knox logo in the foyer of the Wenkart Theatre, to the mural in the Breezeway, there are reminders in so many places of our values and our traditions.
"The centenary will be a time to unite our community and build on connections. A time to highlight our history and traditions and shine a light on what makes us unique," says Mr James.
It is an exciting time for our school, and a defining moment in its history. There is much planned for our centenary year and we look forward to the community coming together on numerous occasions to celebrate.
The Centenary Website will be updated regularly during the centenary commemoration period.
Click here to be immersed in the history of Knox Grammar School, and join in celebrating 100 years of equipping young men with a world-class Knox education.