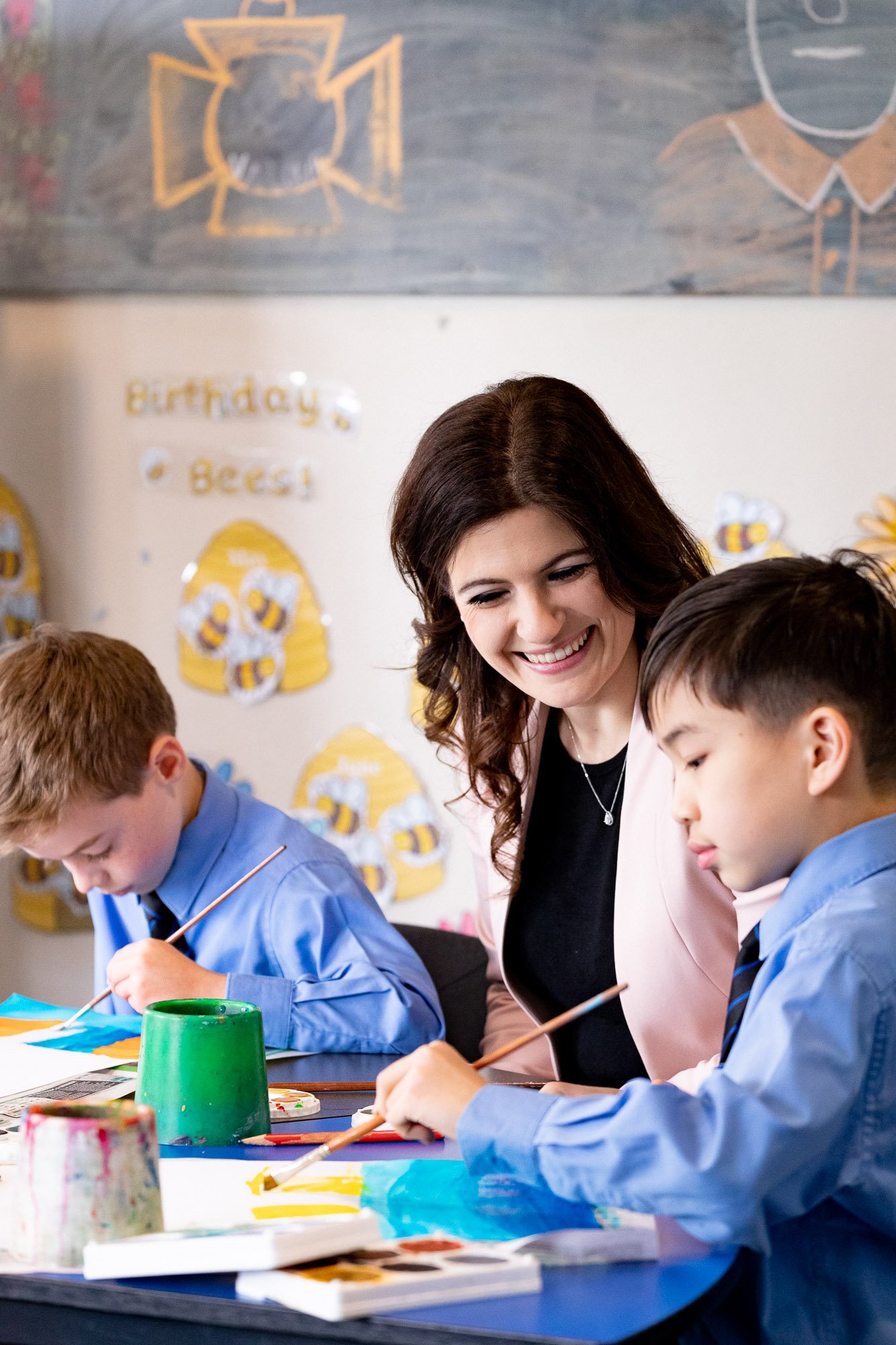 Quality teaching is the key to our students' success.
We employ highly skilled and innovative teachers who are passionate about learning. One of our strategic intents is to advance the performance of all our staff in a supportive and collaborative learning environment enabling them to flourish as professionals for the benefit of our students.
Further information can be found by visiting our Science of Wellbeing website.
About our approach
We are committed to supporting our teachers to continually strive to improve their teaching practice and content knowledge.
To achieve this aim, we have invested energy and resources into an innovative approach to professional learning. We have fostered a transparent, collaborative and supportive culture where teacher observations, annual faculty teaching initiatives, and celebrating successes are integral to what we do as educators.
Learning and Research Teams
A hallmark of our innovative approach has been the formation of Learning and Research Teams in each faculty in the Senior School and across Knox Prep and Wahroonga Prep. In these teams, the teachers develop strategic and targeted interventions or new approaches that are informed by evidence. The teachers evaluate the impact of their strategies and invite students to share their feedback about what is happening in the classroom. The teams are supported by Directors of Teaching and Learning in the senior and preparatory schools.
Our Professional Learning program includes:

Collaboration - teachers work in small professional learning communities, meeting regularly to plan strategic interventions, enhance their teaching practice and subject content knowledge, share ideas and resources, and support high quality teaching and learning for all students.
Annual goal setting and planning for growth – Staff undertake an annual process of goal setting in areas of classroom practice and broader educational impact. The goals are based on AITSL's Teacher Performance and Development Framework and include plans as to how they might be achieved.
Lesson observation - Classroom observation develops a culture of ongoing professional growth and collaboration that results in improved practice and student learning outcomes. Every Knox teacher (Prep and Senior) has lessons observed, filmed and analysed through the year. Classroom observations are linked to the teacher's Professional Growth Plan and The Australian Professional Standards for Teachers that describe the knowledge, skills and understanding expected of competent and effective teachers. Teachers are also invited to watch their colleagues to enhance their own practice.
Student/teacher perception surveys - student feedback helps teachers understand their strengths and weaknesses and improve their teaching practice (Prep and Senior).
Accreditation support - professional support for new teachers undertaking processes of accreditation and for experienced teachers undertaking higher levels of formal accreditation (Prep and Senior).
Parent engagement – Knox parents are integral members of our school community. When we work together we can make a difference in each child's educational outcomes.
Targeted NESA endorsed professional learning - available for all staff on PD days usually at the start of each Term.
Student voice – Knox students are invited to share their perspectives with teachers and provide insight into all areas of school life to help us better cater for their changing needs.
Key Initiatives:
Research Institute for Innovation and Professional Learning (RiiPL) - Our vision is to become a leading provider of endorsed professional learning nationally and globally. We are partnering with cross-sectoral schools to share professional learning opportunities and learn from each other. We have instigated a research partnership with the University of Newcastle, with several Knox staff understanding a Masters or Doctorate. Additionally, the university provides support in up-skilling staff in the use of data analytics.
Aspiring and Middle Leadership Program - The NESA endorsed Aspiring and Middle Leaders Programs are designed to support K-12 teachers at Knox who are aspiring to become a leader to understand the challenges of leadership and support them to have the confidence and courage to apply for leadership positions. The participants will have the opportunity to shadow leaders in our RiiPL partner schools.
For more information about Quality Teaching at Knox, please contact Matt Robertson, Head of Teaching and Learning.